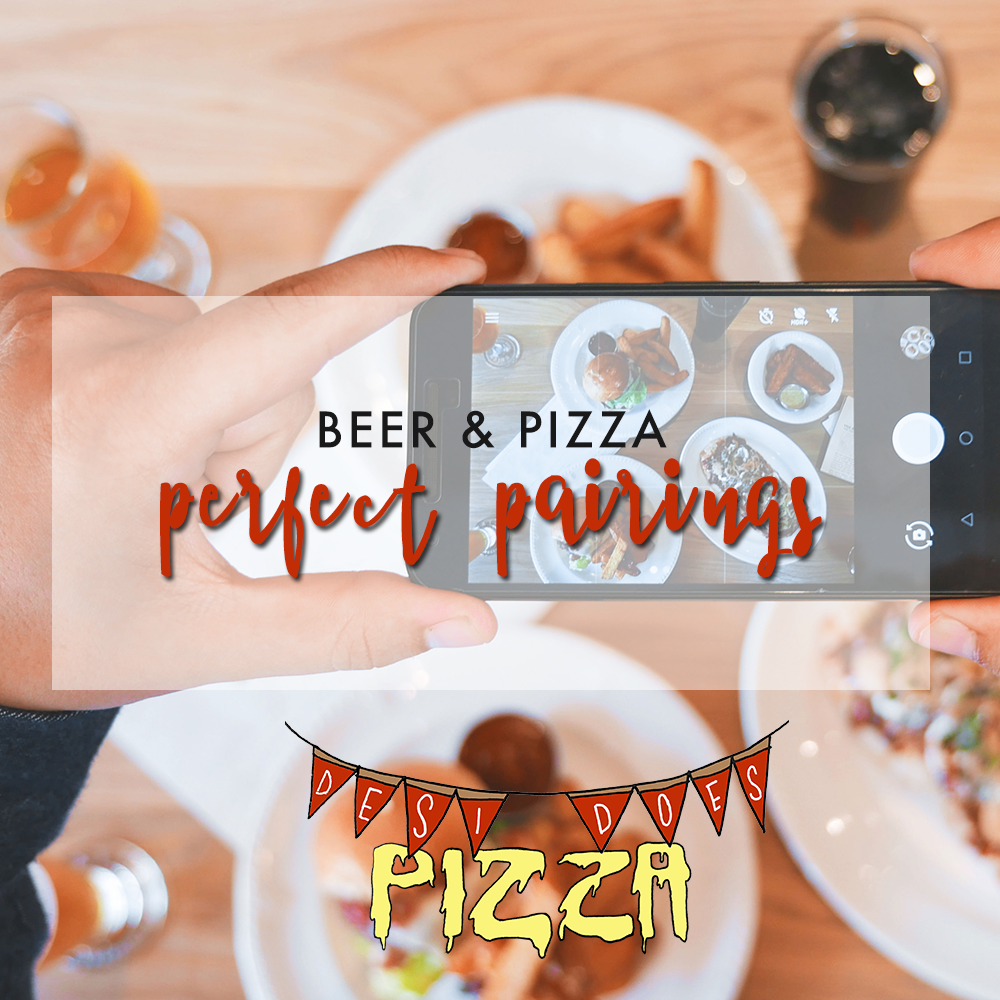 Right up there with my love of pizza is my love of beer. They compliment each other perfectly, so it makes sense to match them up. But not all beer and pizza deals are created equal - like wine and cheese, there's definitely an art to it (
just like this cute embroidery
.) Today I'm sharing some of my favorite combinations so you can amplify your next fancy dinner!
Cheese
:
The classic cheese pizza, the standard by which all pizzerias should be compared, is obviously one of the most flexible slices to pair. Go for something light and easy, like
Atwater Brewery's Dirty Blonde
. For bolder taste (and a beer that is definitely worthy of being the full focus of the meal,)
Russian Rivers' Pliny the Elder
 is a DIPA that matches well with a plain cheese slice. Or if you, like me, are mostly concerned with depositing the most pizza possible into your body, I recommend something like a shandy. I can't tell you how many cheese pizzas and
Summer Shandy
six-packs I've guzzled down in the past! (No shame here.)
Pepperoni
: For a pepperoni pie, you'll want something spicy to pull out the heat in the meat. I like a black IPA, like
21st Amendment's Back in Black
- it's not too bitter, but has rich hops and flavor to accentuate the pizza. 
Founder's Mango Magnifico
is brewed with habaneros for an extra kick - perfect to play off the peps. 
Homemade
: I love making pizza at home! Because toppings can vary, you can pretty safely pair any beer with a homemade pie. A pale ale is a good choice (try
Harpoon's Wannamango
if you're a fruit fan, like me.) Get a double dose of ALE by using
beer battered dough
, too!
Deep Dish
:
Bell's Oberon
is a seasonal wheat similar to Blue Moon, but way better. The carbonation can help break up the mouthfeel of the deep dish's crust and gives a citrus flavor you won't find in the pizza. Or try a witbeer -
Revolution's Bottom Up
 is my favorite wit, and the flavor won't be overpowered by the heavy deep dish.
Margherita
: I'm a really big fan of this classic pizza - give me fresh mozzarella and I'm a happy girl. Pair it with a
Tiny Bomb from Memphis' Wiseacre Brewing
, and I'm even happier! Or opt for something unfiltered - the bready flavor of
Boulevard's Unfiltered Wheat Beer
 gives a nice mouthfeel to play off the basil, tomato and mozzarella combo.
Ham and Pineapple
: A Hawaiian pizza deserves a Hawaiian beer - this pairing sounds especially appetizing now, after winter months of little sun and cold temperatures! Choose a light, tropical beer like 
Avery Liliko'i Kepolo
 - this passion fruit infused Belgian white is a favorite of mine, and the flavor will play off the sweetness of the pineapple as well as the salt in the ham. 
White Pizza
: The creamy alfredo sauce on a white pizza is begging for a strong partner in its beer. I'd opt for something like 
Leinenkugel's Big Butt Dopplebock
(my favorite of the variety, because who can resist that name) or an IPA. My favorite is
Bell's Two-Hearted
(love my Michigan beers) but any IPA is a nice compliment. I'd also love to try it with
Champion's Malibu Nights
- a PINK beer? Sign me right up.
Still not inspired?
This guide from Home Run Pizza here in Chicago might help!
What's your favorite beer and slice combo? Share in the comments!