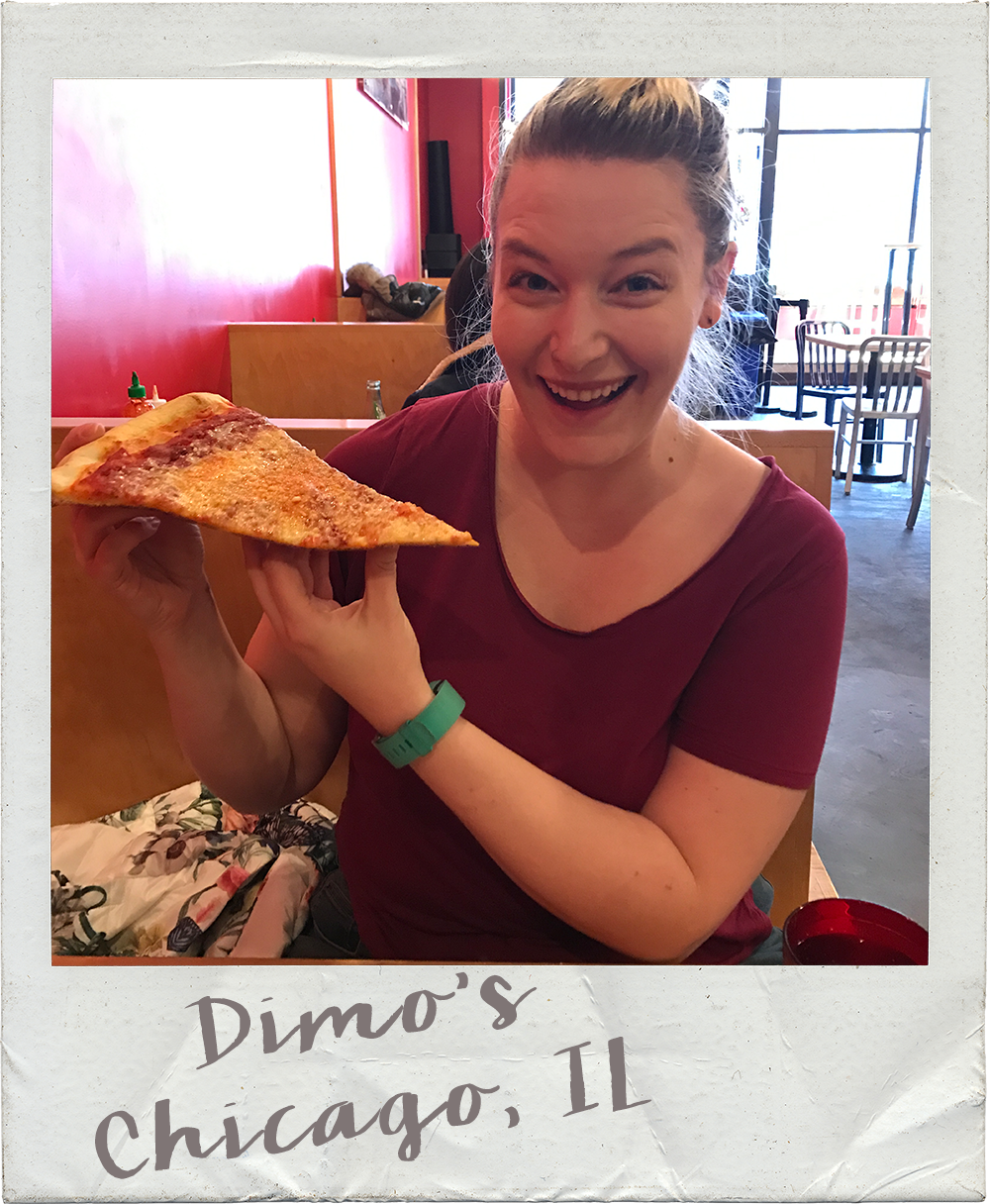 I started visiting Chicago in earnest about a year ago - last May I made an impromptu road trip from Nashville to Chicago with my intern, who treated me to Dimo's delivery after a Beach Slang concert at the end of the drive. I didn't really bother asking what the pizza place was at the time - I just remembered that it was really, really good. Now that I live her permanently, I'm definitely a Dimo's regular!

They have two locations: one in Wicker Park just off the blue line, and another in Wrigleyville near the ballpark. I've been to both, though I prefer Six Points for it's size and for the fact that I'm there so often it's beginning to feel like home.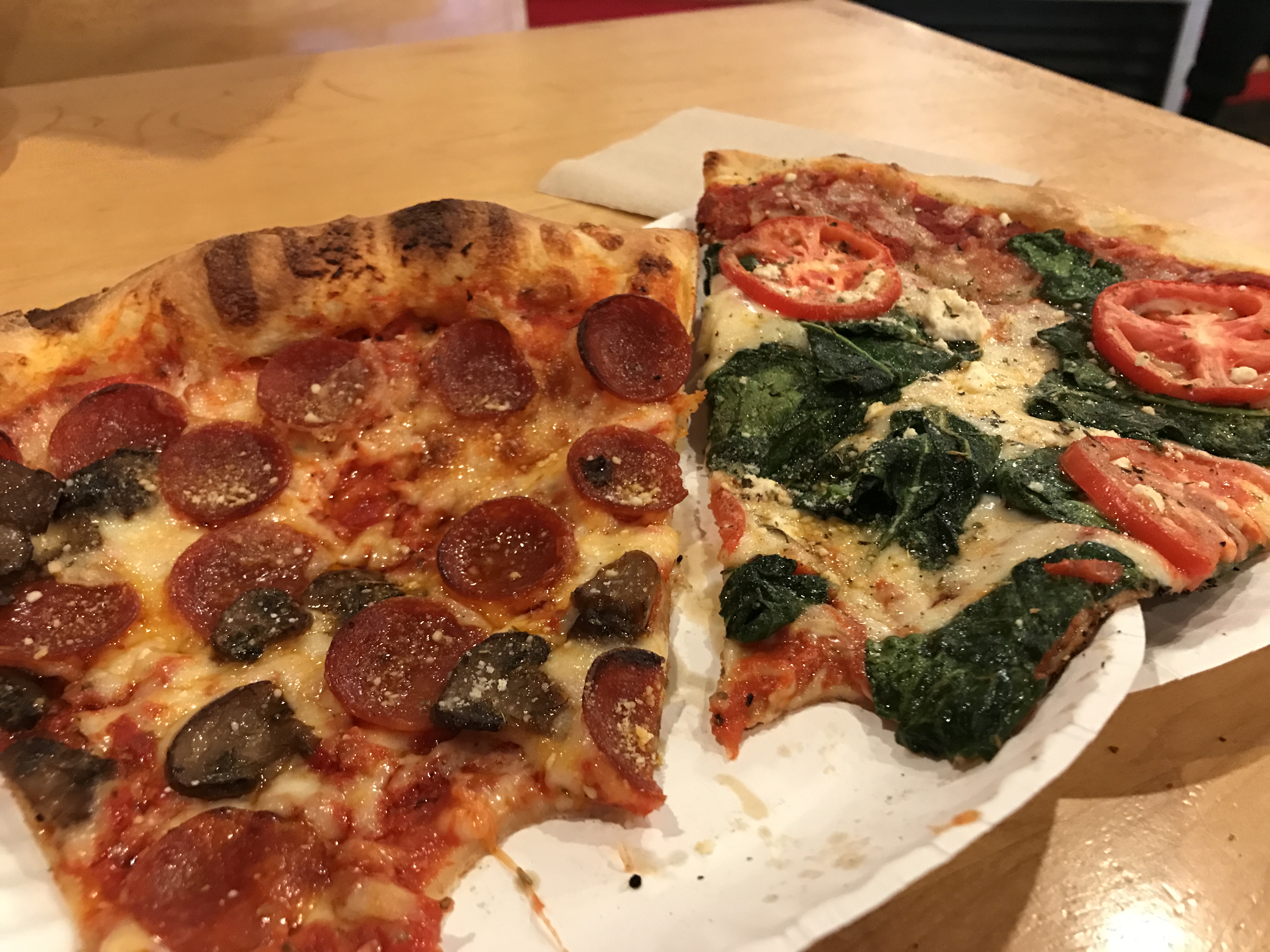 Dimo's slices are HUGE - I mean, just look at that photo. They offer slices, full pies, and bicycle delivery. Every month, they have really creative specialty pizzas, like the Green Bean Casserole (green beans on a cream of mushroom soup base topped with French fried onions) and The Argyle (sriracha marinated tofu on a peanut sauce base topped with cilantro, bean sprouts, fried onions and sriracha,) both seasonal options. They also have fun "staples," like BBQChickenBaconCheddarRanchh and Chicken 'N Waffles (one of my favorites due to the inclusion of honey, which is potentially the greatest pizza topping ever.) They also cater to a variety of diets, with many of their pizzas available in a vegan version and lots of great salads for the gluten-free.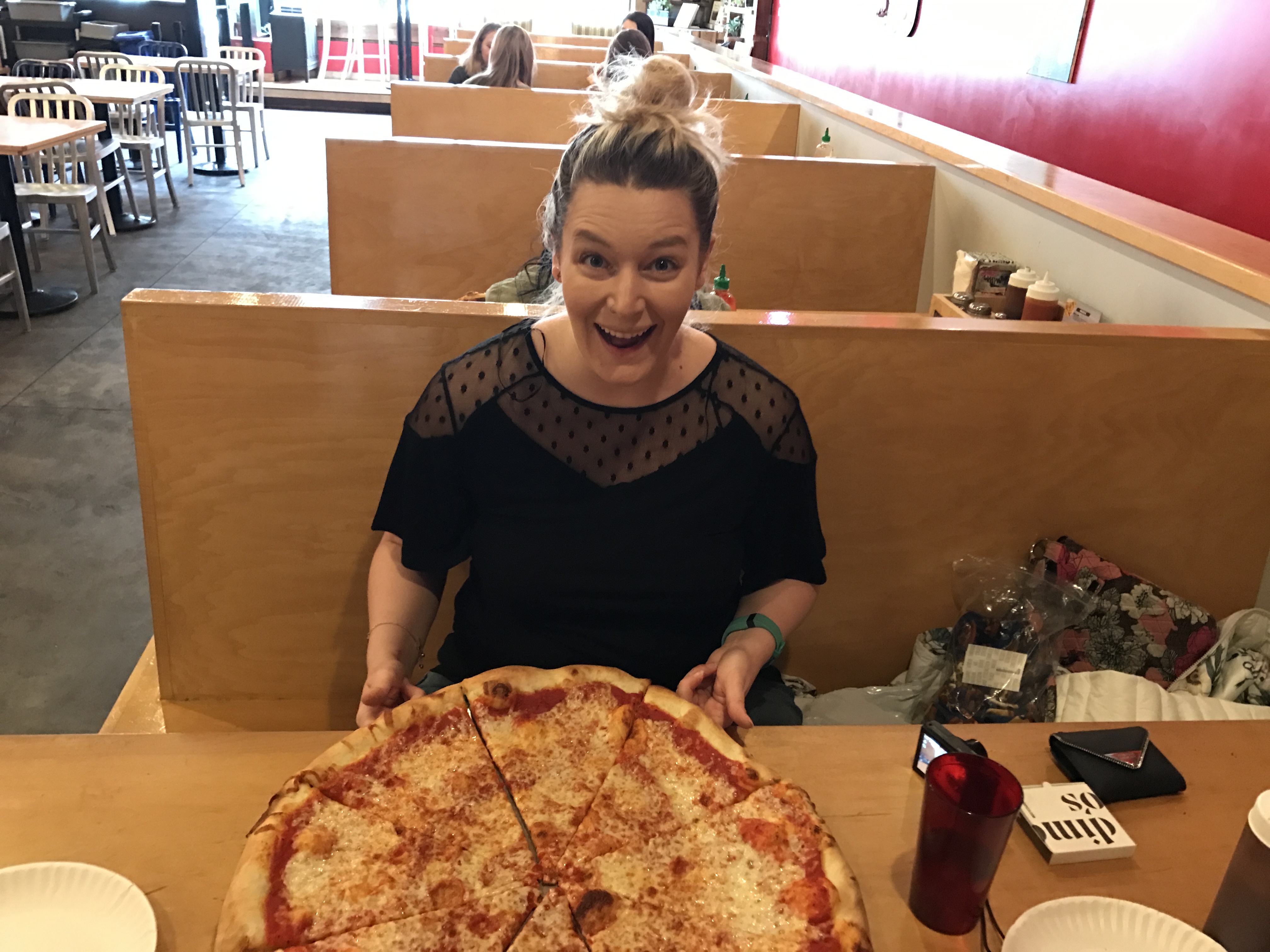 Going back to the basics, though, I'm a big fan of their pizzas because they're well balanced. The ratio of cheese to sauce is good, the crust is always crispy, and the sauce isn't overly thick. I have to knock off points for the inconsistent cheesing (I wish they'd sprinkle the cheese all the way out to the edge of the sauce, but that's not typically the case.) Cheese slices are complimented by parmesean or oregano, but it doesn't feel like it's missing anything if I forget to tap some on.

In addition to near-perfect pizza, they also have great cocktails and rotating taps, with brownies and cookies available to take home. And if pizza gets you in the mood, they also sell condoms at the register (I can only assume they might be pepperoni inspired.) Their gifts (including the pins my intern got me) come in mini pizza boxes, which is one of the best touches I've ever seen.

My biggest complaint about Dimo's is that for as often as I'm there, I had no idea that they have a punch card until the last time I stopped in - and I was already on my way out. I would easily be on my way to a second (or third) free slice by now, but c'est la vie.

Obviously, I'm a really big fan (I even chose Dimo's to be the pizza I ate for the Pizza Summit competition.) The only way I could love them more is if they would finally make me their Customer of the Month! 


Rating: 7/10