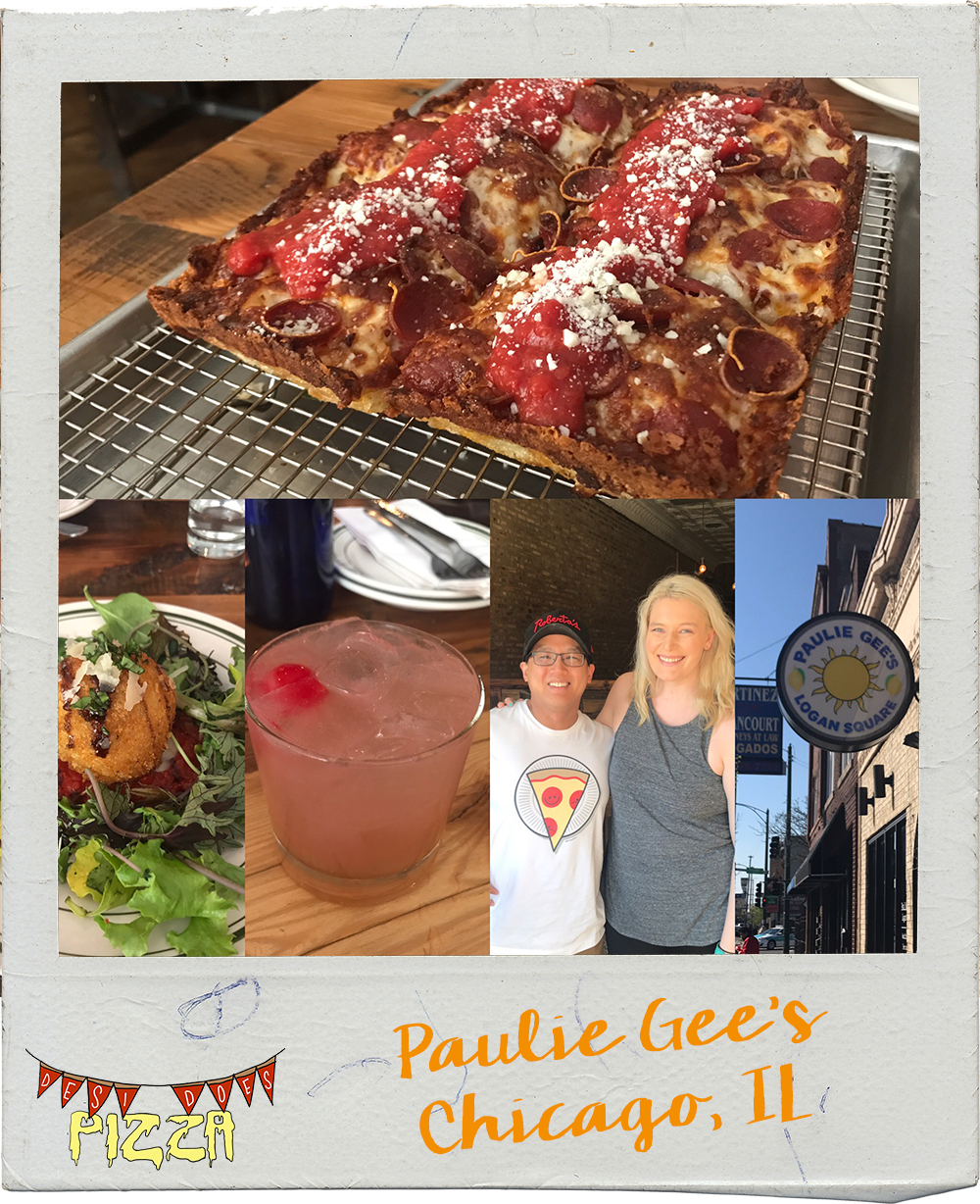 When I first started coming to Chicago, my intern kept saying "we have to go to Paulie Gee's." We finally went in January when I was laboring over where to go for my birthday dinner - what pizza place in Chicago would take reservations for a number somewhere between 12 and 16 people on a Friday night? I tepidly sent a message to their Facebook page asking about that feasibility and didn't really expect to hear back. Except that I did, within an hour. I got a very friendly response that they didn't take reservations, but they'd be happy to help us out.  
I couldn't have picked a better place for dinner. Paulie Gee's accommodated all of us with impeccable service despite it being a tight squeeze. Not one food or drink order was wrong. At some point during the night, a man with a tray of shots came over and introduced himself as the owner.  
His name is Derrick Tung, and he left a corporate job to open up Paulie Gee's in Chicago. He thanked me for picking Paulie's for birthday dinner and presented me with a special limoncello shot that was so delicious I am STILL thinking about it. Not only was the service great, the pies were too. (We were so hungry I didn't even manage to sneak a picture of any of them.)
That experience really stuck with me. I reached out to Derrick on Facebook again and asked if I could come in and talk to him. We had a great, wide-ranging conversation - and delicious pizza to boot.  
Desi Does Pizza: How did you get into the pizza business?  
Derrick: My wife actually owns her own business too, and one night when she left the corporate business, I was helping her pack up. It was 10pm by the time we finished packing up everything, so we went out to this place called Neo and it was one of the first times I had had Neapolitan pizza.  
I thought this was amazing. I just wanted to learn how to make it and start making it at home. Little did I know, you need an oven that can get up to at least 700-900 degrees in order to make it well. I started making it at home and decided "this would be cool to have in my backyard." I talked to my wife and said "hey, can I build one of these?" She said "absolutely not."  
At that point I kind of spun the idea and said well, why don't I make a small side business and do this? I built the oven on the back of a trailer, and we brought it to farmer's markets and did private events for a year. We worked under the name ZAπ - all three of us came from Illinois Math and Science Academy, and were kind of geeky… I still am kind of geeky. For a year we just did farmer's markets, private events, and built up our chops, started building a crowd, and after the year was up I thought it might be interesting to reach out to some mentors that transitioned into the restaurant field - specifically pizza, but someone who didn't have an Italian background or a restaurant background. Someone that would understand me changing from a corporate job into a restaurant field and help guide us. I reached out to three different mentors that fit that description, Paulie being one of them. Like any good relationship, we connected online, and things started happening. We talked to each other on the phone, we emailed regularly, he came to my city to visit, I went to his city to visit, we got to know each other, and at some point, we decided to solidify the partnership and open up a place in Chicago.  
During that time, that was probably a three year project in the making, and then I left my job. It was about two-and-a-half years before I found the spot and renovated it enough to get everything open and up and running. But during that time I went to Paulie's [in New York] and trained there for two months in every single position, I worked at a couple different wood fire places to get the understanding of restaurant flow: what it's like to be on the line, what it's like to be a bartender, and just get my chops up in terms of all aspects of restaurant. Once we found this place, it was about seven months to get it up and running and open until we were ready to go.  
Seven months sounds slow to me, I guess because I'm coming every single day and I'm seeing a little bit of progress at a time, but when I talk to other restaurateurs they're like "seven months? That's insanely fast, how did you turn it around so fast?" I guess it's all relative, because I had no expectations. I kept thinking "How long can it really take to turn around a restaurant? It's got a kitchen in place, we're ready to go."  
DDP: You have a lot of unique pizzas - how do you come up with the names and the recipes?  
D: About 50% of the pizzas are from the original Paulie Gee's, so when I trained there, I took some of their most popular pies and wanted to add those to the menu so I could bring those to Chicago. The best thing about making pizza is that creativity and being able to play with stuff so a few of the pies are the ones that I created during those 2.5 years. I was just playing with ingredients, having private parties at my house, inviting people over to just come and eat with us and give feedback. Some of the other ones that are newer are created by the staff. The staff have a chance to create a pizza, and we talk about it as a team. The hardest part for us is coming up with the names. Something punny - none of us are really that great with puns, so it always takes us awhile!  
The other pizza style we offer is the Detroit style pizza and that's one that Paulie doesn't offer. During those 2.5 years, my wife and I were trying to save money, so we just did road trips to different cities where we knew there was great pizza. We went off that top 100 list that comes out every year and just started traveling so we went to New Orleans, we went to Michigan, we went to California and just tried different pizzas. Detroit has a place called Buddy's, which, oh, God... it just changed our whole perspective on pizza. It was so good. It's like that crispy exterior, the nice moist, soft interior, and so I wanted to create it at home. I wanted to learn how to make it, so I bought some Detroit-style pans and started playing at home. When we got this place, we had a convection oven that came with it in the back kitchen. So I started playing with it a little bit, I had a couple staff members help me out, and we played with the recipe and found something we really liked. For about six or seven months, we tested it with our guests and we only had it a few days a week, just to give it a spin, and just this past week we actually went live with it every single day. We found that our guests do really like having a different style added to the menu and now it's available every day.  
DDP: What separates this location of Paulie's from the ones in New York other than the food?  
D: I think we're a larger location, we have a couple of pies that are a little more Chicago-centric and Chicago-based, and that midwest taste in that Detroit-style pizza. I'm surprised as to how many Detroit and Michigan transplants there are in Chicago! It's always interesting to see how many of them come in, and they try the Detroit, and they're like "oh, this tastes just like Buddy's. It reminds me of my birthdays from when I was growing up in Detroit." It strikes me as odd, but very complimentary.  
DDP: What's the most popular staff creation?  
D: Probably the So Fresh and So Green Green. That one was made by one of my staff. The Big Bad Wolf is my creation, that one outsells the So Fresh and So Green, but I like to push the staff to create new things. Then our Logan Squares. Every once in awhile we'll hit on one that people just go crazy about. People still talk about our potato one, they love the flavors on those. The only drawback is that those are one-month pizzas. I want it on there for a month so then we rotate and come up with something else fresh.  
DDP: What's your favorite non-Paulie Gee's pizza in Chicago?  
D: Does it have to be one place? I love Coalfire. Their white pie is phenomenal, it's one of my wife's favorite white pies. Their use of ricotta is insane - they pipe it out and it's so fluffy and light and delicious. Spacca Napoli has really great die-hard neapolitan pizza. It is as good as what you can get in Naples. Those are typically my go-tos. There's a couple spots in the suburbs. There's a place called Al's, in Warrenville, that does a great Chicago bar style thin crust. As long as you get it extra crispy. What really stands out their is their sauce and their sausage play so well together. Their fresh sausage is seasoned so well. A nice sausage and mushroom pie there just makes me happy.  
DDP: Do you think you want to expand more in the city, or will this be it?  
D: For a sit-down, casual place, I think this is going to be it. I would love to do a little slice shop: I feel like Chicago is one of these cities without a lot of slice shops that serves just a good, quick slice where you can walk up to the window and be like "hey, I want a slice." I'd love to do it with some New York slices and maybe some Detroit slices. Something simple. Whether it's downtown to hit some of the lunch crowd or it's more like in Logan Square where we're doing late night, where it's people who are leaving the bars and just need a bite to eat, I think it would be cool to have something like that. Depending on how things go, I don't know if it will be one of these windows here that will turn into one of these to-go windows at night, or whether we set up a separate shop somewhere else. That's the goal, we'll see where it goes.  
DDP: It's interesting how you transitioned from the healthcare industry to pizza.  
D: There is some crossover. I was negotiating supplies for hospitals, so negotiating supplies for the restaurant is a step away, but similar in some veins. When I worked in the hospital, I ran a department, and managing people is managing people to some degree. But managing doctors and nurses versus managing cooks and waiters is definitely very different. I'm definitely learning a lot along the way.  
DDP: How do you go from what you were doing before to pizza?  
D: I think part of it is just having a type A personality. You get obsessed with something. Something triggers that obsession, and you just have to learn and learn and do it until you're happy with it. That kind of started with me at home, and it wasn't the jump that it sounds like. I was doing my healthcare consulting on the weekdays, and on the weekends I would go to the farmer's markets. On Wednesday, I would make the dough and get everything ready for the weekends.  
At some point I just realized I just lived for the Wednesdays where I'm making dough with my friends and talking, catching up, and for the Saturdays where I had guests coming back telling me "oh, yeah, we loved your pizza. We want to buy some more and freeze it for the week," and seeing repeat guests and just talking to them. That's really what the fun part is, right? Your obsession continues to grow until it becomes this uncontrollable behemoth that's a restaurant. I have my wife to thank, for sure. She's been the breadwinner in the process.  
DDP: I was just doing some math in my head - so did you open the restaurant with a one-month old baby?  
D: (laughing) I did. We had planned to open earlier - July 9 was our opening date, but our baby came early, so we pushed that date back for some family time. It's been phenomenal. My front of house manager tells me that everything he told me for the first three or four months that I don't remember anything of just from the lack of sleep. Things have been going really well for us now.  
DDP: When you're hiring people to work here, what do you look for?  
D: It's all about that passion. I have that type A personality, and you get focused on one thing and you want to learn how to do it better and better. One of the things I learned when working at different pizza restaurants to get my skills up and figure out how the restaurant world functions is that you can tell who is there because it was a job, and you could tell who was there because they were truly passionate about creating a great product because they want to represent and do something amazing. I worked at different places, and it was interesting to see.  
The moment I went to Paulie Gee's to start training there, every single person there just had a love of pizza. From the moment I got on the line to introduce myself and we talked, they'd suggest these five pizza places in New York, or this place with amazing ingredients. At other places, I'd ask them "hey, have you tried the pizza place next door? How does it compare to ours?" and they wouldn't even know there was a pizza place next door. What I'm looking for is someone that's really passionate about it. If they want to be in the front of house, on the service side, you have to be able to demonstrate that.  
You have to really like to interact with people, you want to have people have a good time, and be someone that facilitates that. If you want to be on the pizza line, you have to really have that love of wanting to make pizza and have that type A pizza of wanting to create something that people are going to look at and say "that's beautiful, but that's also delicious." It's all about pursuing your passion. If you do that, truly, good things can come. If you don't have that, it's just a job. What's the point?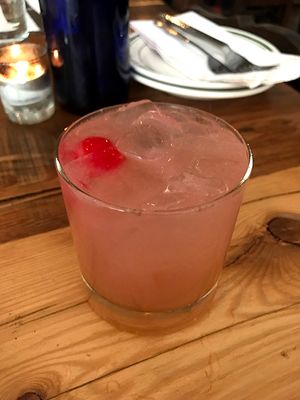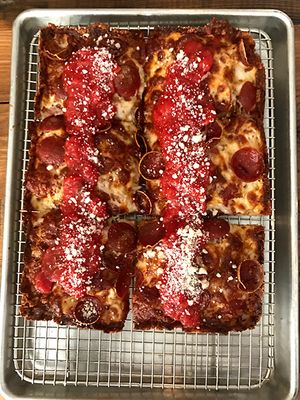 We got to try the Detroit-style pizza, and he's right - it's very reminiscent of Buddy's in Detroit. The crust is light, fluffy, and the exact right amount of crunch. Their pepperonis are seasoned perfectly. I ordered a watermelon margarita and it was the perfect compliment to the heat in the meat.  
My mouth is watering after this post! If you're in Chicago, please go visit them for some of the best service you'll ever have. If you're not in Chicago, plan a trip to head their way! 

Rating: 10/10